We are a business owner's
first

choice
when it comes to a last resort.

A courtroom litigation makes for great headlines and prime-time TV, but it's lousy for business. That's why our approach to litigation takes into account what a business owner wants most: Fast, positive results.
Litigation sometimes involves a trial. Sometimes it's a privately negotiated settlement. In either case, it has to occur as efficiently as possible, while effectively managing the time and resources you commit to the case.
Our approach to litigation is simple:
Whether we enter the courtroom or not, your business will win in the end.
Appellate
Banking and Financial Services Litigation
Business Contract Litigation
Creditor's Rights
Electronic Discovery
Employment Litigation
Environmental Law
Intellectual Property Litigation
Trust and Estate Litigation
White Collar Defense and Investigations
Shareholder, Partner, and other Business Owner Disputes
Construction Law
Bankruptcy and Reorganization
Workout and Foreclosures
Alternative Dispute Resolution
Administration Law
Municipal Law
Condemnation/Eminent Domain
Arbitration and Mediation
Global Litigation Services & Resources
Should your or your company require international assistance with litigation matters, our membership in MSI Global Alliance — an international association of leading independent law and accounting firms around the world — is there to help.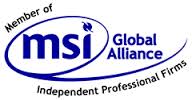 MSI is London based and has over 250 member firms located in 105 countries, providing its members with immediate access to worldwide legal markets.
Contact us today to meet with one of our litigators.