Every situation – and every solution – is different.
We don't believe there's a one-size-fits-all when it comes to wealth management.

When we represent individuals and families in the transitional passing of a business, for example, we understand that every client's situation will be unique.
That's why we take an approach that involves more than just minimizing taxes, even though our tax expertise is the foundation of our approach. With each client, we delve deep into the complex business and investment interests, making sure we understand the big picture.
Businesses are complex mechanisms, and you've built yours just the way you want it. Now it's time to ask yourself: Don't I deserve a solution that's just as unique as my business?
Our Wealth Management Services include —
Succession Planning
Charitable Gift Planning
Charitable Organizations
Gifting Strategies
Estate Planning
Marital Agreements
Probate and Trust Administration
Trust and Estate Litigation
Trust and Will Contests
Tax Planning
Tax Audits and Appeals
Global Services & Resources for your Wealth Management needs
Should your wealth management strategy require international assistance, our membership in MSI Global Alliance — an international association of leading independent law and accounting firms around the world — is there to help.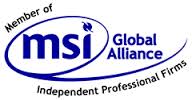 MSI is London based and has over 250 member firms located in 105 countries, providing its members with immediate access to worldwide legal markets.
Let us be of service to you!
Contact Us today to find out how we can help you and your business succeed with the right wealth management strategies.