Helping you manage your most important resource.

Every business is built on its people. And as a business owner, you have to recruit and retain talented employees while acting in the best interest of your organization.
Unless you have the right legal assistance, this is no easy feat.
The changing world of Employment Law
Every day, we help businesses define their legal approach to human resources and understand the ever changing world of employment law. From managing the work environment to navigating state and federal administrative agencies and court systems when current or former employees file complaints over wages, hours, working conditions, discipline, or discharge.
We provide comprehensive legal representation in labor and employment law.
HR Counseling
Discipline and Discharge
Policies and Procedures
Contracts
Legal Compliance
Employment Litigation
State and Federal Courts
Administrative Agencies
Union-Management Relations
Grievances and Arbitration
Collective Bargaining
Global Employment Legal Services & Resources
Should your company require international assistance with employment issues, our membership in MSI Global Alliance — an international association of leading independent law and accounting firms around the world — is there to help.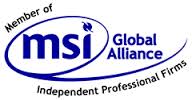 MSI is London based and has over 250 member firms located in 105 countries, providing its members with immediate access to worldwide legal markets.
Contact us today to meet with one of our employment legal experts.
Helpful Links